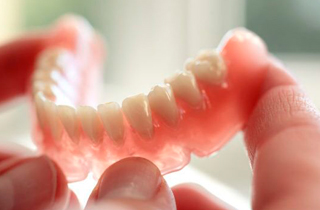 Dentures are a popular type of dental removables used to replace lost or extracted teeth. Your natural teeth may fall out naturally with age. But if you have severely damaged teeth due to periodontal disease, trauma, or other oral conditions, Dr. Farhad Safe may recommend that you extract them and get partial or full dentures instead.
Dentures are not permanent fixtures, and are usually held in place by the soft and hard tissues - gums and jaw bone - along the dental arch. In some cases, denture adhesives and creams may be used to prevent slipping and ensure a comfortable fit. For greater stability and comfort, Dr. Safe may recommend that you get implant-supported dentures that are anchored by dental implants.
This treatment may take longer as you need to wait until the implant has integrated with the jawbone and the gums have healed before fitting the dentures, but your denture will fit more comfortably with zero slippage, making it easier for you to talk, eat, and laugh.
Are Dentures over Implants Right for You? Dentures are mostly associated with senior citizens who have lost all or most of their natural teeth. However, any person who has experienced substantial tooth loss can benefit from dentures over implants.
Unlike traditional dentures that require the patient to have a healthy amount of gum tissue and jawbone to help provide sufficient suction force to hold them in place, implant-supported dentures don't have this limitation.
Other advantages of dentures over implants include:
Custom-made to fit your own bite and smile, so they feel more or less like your natural teeth
Improve your chewing ability and allow you to enjoy more foods because of their stability
Eliminate speech problems associated with gaps in your mouth or slipping dentures
Prevent the remaining natural teeth from shifting.
Dentures are also a cosmetic treatment as they can be designed to improve your facial appearance, enhance your smile, and boost your self-confidence. Please visit Safe Dental Care in Oxnard, CA today for a consultation and to start your teeth replacement treatment.